Britannia Printers Environmental Statement
Britannia Printers Inc. believes in being a good corporate citizen, and that includes being environmentally responsible.
Back in the days before it was 'cool' to be environmentally minded, Britannia was recycling waste paper. Almost 50 years ago in our plant on Main Street in Toronto, one of my first jobs was to collect and bale scrap paper for recycling. We did not do that because of social pressure – we did it because we believed it was the right thing to do!
Since those days, we have adopted many responsible processes and products, such as…
We are proud to be recognized by the Forest Stewardship Council® as an FSC® Certified Printer (we would be happy to assist you in certifying your project).

We were one of the earliest adopters of Computer-to-plate technology which eliminated the need for silver based film and chemicals associated with it.

The use of recyclable aluminum plates which do not need chemicals for processing.

The use of Soya based inks.

Reprocessing and recycling of waste materials such as inks, wash-ups solvents and lubricants.

The elimination of alcohol based solutions where possible.
We are committed to continue adapting new ways to reduce our environmental impact as they present themselves.
Matthew Saunders
President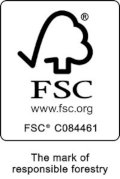 FSC® Certified
Britannia Printers Inc is an FSC® (Forest Stewardship Council®) certified printer. This chain of custody program ensures that FSC® certified paper is made from wood from responsibly managed and harvested forests.
The FSC® is an international organization dedicated to better utilizing, managing and promoting responsible use of our forests.