Business Cards
Your business card is often one of the first things a potential new client sees. We believe that this opportunity should be used to make a great first impression! From our location in Pickering, Ontario, we can ship out a variety of business cards that reflect your style and meet your needs.
Quality (Digital) Business Cards
Available in rich full colour coverage including bleeds and either one or double sided, our digital business cards are printed on thick 12pt. gloss Card Stock.
Available in 2″ X 3 1/2″, they are cut to size and are available in quantities of 250, 500, 1000, 2500, and 5000.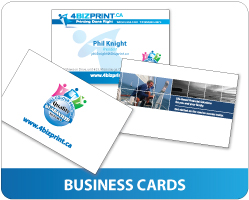 Premium Offset Business Cards
Thick 14pt. gloss Cardstock gives this business card an edge with rich full colour including bleeds available on either one or two sides. Available in 2″ X 3 1/2″ and in quantities of 1000, 5000, 10000, 15000, and 20000.
Laminated Business Cards
Classy and beautiful, these cards are available in either a matte or high gloss lamination. Matte lamination provides a sophisticated look while high gloss will give your business card a lot of "punch." Printed in full colour and at 16pt. thick, these cards will help your business stand out from the crowd. Available in quantities of 1000 and 2000.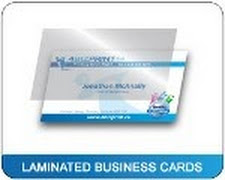 Spot Gloss Laminated Cards
Truly one of the coolest cards you'll ever see, spot glass laminated are 16pt. thick and are silk laminated and then overprinted with a gloss image of your choice. Think about the possibilities: You could put a subtle image in the background or highlight your business logo. With this incredible design element, you can get be very creative!